END-TO-END
Process and Value
The Value Driver Fields - "the strategic triple-intersection"


End-to-End - developers of the Value Driver Model©


The Strategic Triple-Intersection identifies necessary topics for top management to consider if strategic initiatives should succeed.
The focus within this triple-intersection should be on the continuous evaluation of how to "run the business and change the business". A sound guide for taking advantage of this triple intersection is a methodology like MoP (Management of Portfolio) released by the British Office of Government Commerce (OGC).
The triple-intersection provides an outline of the "Blueprint" that a programme according to the MSP methodology (Management of Successful Programmes, OGC) needs to guide Business Change Managers towards the realisation of strategic business benefits. This programme blueprint must reflect the strategies and should contain targets according to processes, organisation, information and technology. Evidently, this is a kind of work handled within, and supported by Business Process Management (BPM) and Enterprise Architecture (EA).
The identified triple intersection provides also the starting point for developing all company strategies. As the Value Driver Model© illustrates, all necessary factors are, or should be, presented by the strategic clarification of mission, vision, value targets and processes, and as a result a logical connection between all company strategies.

The Strategic Triple-Intersection
The value driver fields "Value Management" and "Balancing" do not only overlap one another as inherent elements within the business sphere "Business Process Management". They also constitute a triple intersection together with the value driver field "Line Management".
This triple intersection within the Value Driver Model© is very important from a strategic perspective as it sets the scene for selecting and prioritizing strategic development initiatives. The study of Line Management and Value Management at this level is the core of proper Portfolio Management at strategic level.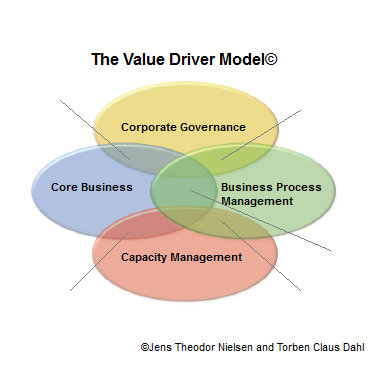 Line Management
Value Management
Optimization
Balancing
Configuration